Krypto Notes Desktop Companion
Secure Data Synchronization between Krypto Notes mobile app and desktop
You always have your device with you but it's not always practical to enter a lot of data on a small screen and without a physical keyboard. Krypto Notes works with the unique Krypto Notes Desktop Companion to help you manage your data securely directly from your computer.
Krypto Notes Desktop Companion is a free desktop application that works in conjuction with Krypto Notes mobile application. Use Desktop Companion to edit data directly on many mobile devices. Desktop Companion includes a simple wizard that will guide your along to setup the connection to your mobile device.
For devices that support USB Mass Storage protocol (expose device storage as drive letter or a mount to your computer), Desktop Companion edits content directly on your device. For devices that do not support USB Mass Storage but instead expose device storage as MTP (Media Transfer Protocol) you have an option of manually coping Krypto Notes sync file to your local drive, editing it there, then copy back to the device for import into mobile application.
Desktop Companion 2.1.111
Free Download
Available for Windows 7/8 now, let us know if you are would like to see Mac or Linux version. This version of Desktop Companion requires KryptoNotes 2.0 or higher on your device.
Still using KryptoNotes 1.x on your device? You will need previous version of Desktop Companion. Download here.
Supported devices:
BlackBerry PlayBook or BlackBerry 10 device
Android Phones 2.3 and higher, using USB Mass Storage mode
Android Devices (Android 3.x and 4.x), MTP protocol requires manual sync
Desktop Companion supports all data-related actions: editing notes, adding notes and deleting notes. However, password can not be changed on the computer, only on mobile device.
Desktop Companion 2.1 is now available for Windows 7 and later, it may work with older versions of Windows but your mileage may vary. If you are using Krypto Notes 1.x on your device, you need to download previous version of Desktop Companion.
Please send us any suggestions or comments using information on our contact page.

Screenshots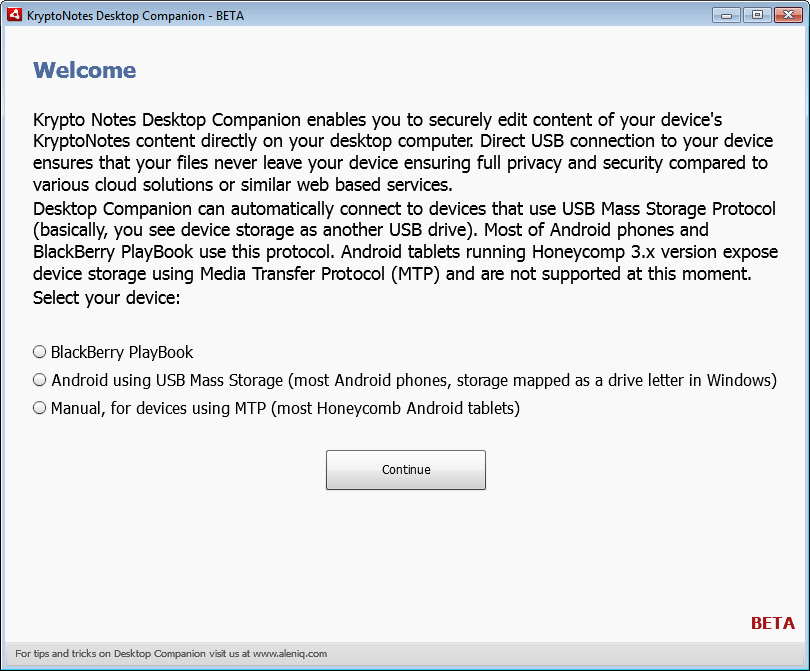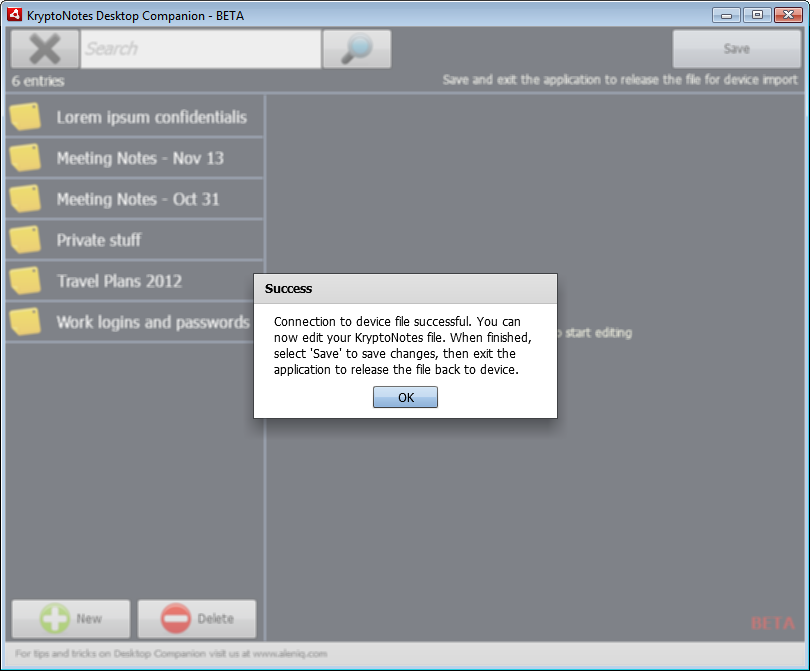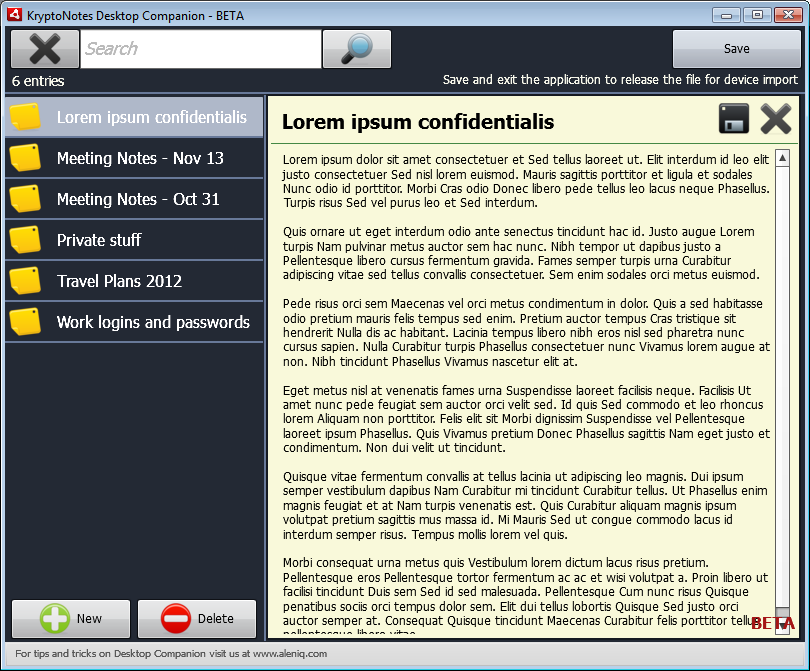 Click on the screenshot to see full size.
F.A.Q.
Q: Is Desktop Companion supported on Windows XP?
A: Desktop Companion is dependant on Adobe AIR 3.1, available for Windows XP SP3 (more info). However, we never tested it on Windows XP and we will officialy support only Windows 7.
Q: Why is Desktop Companion free?
A: Desktop Companion only works with our KryptoNotes mobile application and we are providing it as complimentary tool to our KryptoNotes customers.
Q: I found some bugs in Desktop Companion, what should I do?
A: Please report them to us. We will do our best to fix it as soon as possible.
Q: Can I use Desktop Companion to backup my KryptoNotes data?
A: Yes, that's one of the key benefits of Desktop Companion! Just save "KryptoNotesDC" folder (KryptoNotesDC1 on previous versions) from your device to your computer. If you ever need to restore from backup, copy folder back to your device.
Software Disclaimer
While Aleniq Inc. makes every effort to deliver high quality products, we do not guarantee that our products are free from defects. Our software is provided "as is," and you use it at your own risk. We make no warranties as to performance, merchantability, fitness for a particular purpose, or any other warranties whether expressed or implied. No oral or written communication from or information provided by Aleniq Inc. shall create a warranty. Under no circumstances shall Aleniq Inc. be liable for direct, indirect, special, incidental, or consequential damages resulting from the use, misuse, or inability to use this software, even if we are advised of the possibility of such damages. These exclusions and limitations may not apply in all jurisdictions. You may have additional rights and some of these limitations may not apply to you.